Tape God iNFMS aka 'The Don' was one of the first producers I was introduced to when first entering the world of Phonk and has been a close ally for the last two years, introducing me to some of the best underground producers and music.

Well known for his epic sample selection as well as his 'This Is…' series where he spotlights some of the best Phonk producers in the game. This weekend he took the time to answer a few questions for Badradio.
How did you get into music and how long have you been producing for?
Man, I feel like music has been a part of my life for as long as I can remember. In some facet. I've been playing guitar and drums for like 2 decades. I was obsessed with the radio as a kid. The radio and tape recorders. I saw home alone one time and it was game over from there. But making beats? That is a more recent thing, probably since like 2016.
What is your DAW of choice?
So for beats I primarily use FL studio. But I also make mixes and tapes that I prefer to do in Ableton.
How would you define your production style?
Songs you wanna smoke to.
You have an insane work ethic, what inspires you and what makes you want to keep producing music?
I love it man. It's not "work" for me, it's what my passion is. I'm a big believer in mental health, mindfulness and centeredness. And production provides me with peace. It's never been about money for me, because what I get out of it is worth more to me than money. Happiness is the only currency i think has any real value.
Are there any artists that you draw inspiration from — if so who and what sort of music?
Tons. I'm constantly listening to music. I think I spend like 90% of my day listening to music. I'm a fan of good songs, I don't care who made them. But I gotta give special shout outs to the people who inspired me the most: rza, scott storch, dr. dre, beastie boys, timbaland, q-tip.. Shit man. So so so many
People starting out in music may be questioning what they need to get started. What was the first set of equipment/software you ever bought?
I think there is a lot of misconceptions about what people "need" to get started. I would encourage people to buy a DAW. I know this is not gonna be a popular answer, but not having the frustrations of the DAW no longer working will save you plenty of headaches. And then I would invest in some quality headphones. You don't "need" studio monitors or tons of plug ins. At least not while you're learning what everything does.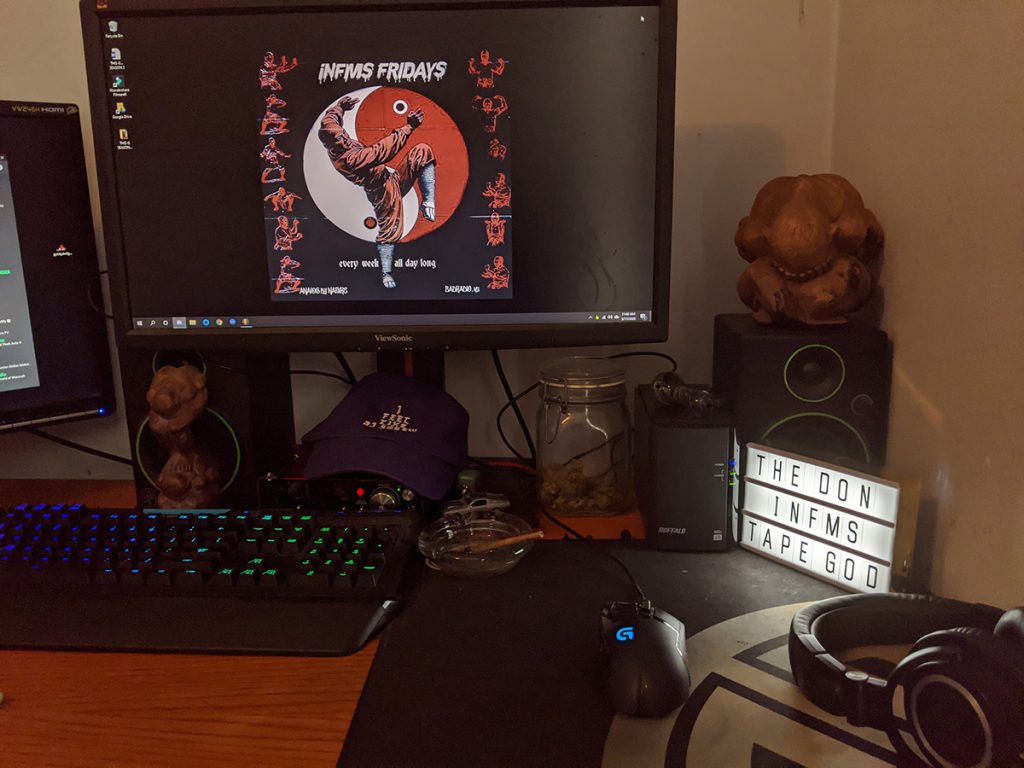 What are a few key lessons you've learned about producing that other aspiring musicians and producers could take advice from?
Stop caring. Music is an art form and there are no rules in art. That's what makes it so fucking punk rock. Have fun and stop caring. If it feels good, go there.
What's the process you go through in finding the perfect tune to sample?
I smoke a lot of weed man, a whole lot of weed. And I listen. I love music man, and there is a lot of it available… for fucking free. I think of it like this, the worst thing that can happen is i hear a song I did not like which ultimately doesn't seem bad to me at all. There is a lot of freedom when you don't hold any pressures on yourself and just enjoy things as they are and while they happen.
Did you study with courses, learn online or just experiment?
My whole life has been experimentation. I love just figuring shit out. If it works it works. If it doesn't, I try something else. My motto is keep fucking up until the only thing you're bad at is fucking up.
You're a big part of the Phonk community, what sets this community apart from others?
Well thank you man, I appreciate that a lot. I think because it lives almost exclusively online it has the ability to connect instantly with someone. It reminds me a lot of the early punk scene in a way. Everything is DIY and analog.
You're currently working with a diverse bunch of producers from all around the world, how does that work logistically?
Well often times its just people posting on discord or communicating via twitter or IG dms. You build a relationship with people and sometimes forget where they're all from. The time differences have been a logistical nightmare to overcome and there still isn't a good solution but weekends are usually best for everyone. We've also been utilizing tools like zoom and discord more to help aid in collaborations and communication.
Have you ever done a live collaboration with someone else (IRL), if so how was the experience?
Yeah me and the main homie Flat Sprite cook up IRL constantly. Its fun man. We just blow trees, drink beers, watch the office and just feed off each others vibe. Always a fun time.
Where do you think Phonk is heading in terms of sub genres and style?
I honestly have no real idea. I think a lot of people are more "concerned" with their style now than previous years. That I think comes with the maturing of any genre. You can kind of already see splintering of sub genres The interesting thing is how these producers all gravitate towards each other. Like they throw up a flag when they post a track and like minded people hear it. I don't think this is a bad thing, I think it will create more diverse cross genres and experimentation in the future that I'm excited for. much like how EDM splintered into dub step and future bass and neo garage etc.
What can we look forward to from iNFMS in the near future, any teasers?
I've always got something up my sleeve.
Tons of collabs, quarantine radio. Got a couple more THIS IS… mixes for season 2. Working on a collab tape with my boy Justllionaire. And of course, Don Chronicals Vol 2.
Thank you for your time, where can we listen to your music and find you on social media?
My pleasure brother. Stay safe, be kind.

@official_iNFMS